Rubbertec AG
Rubbertec was established in September 2004 with the goal of achieving a leading market position in the innovative materials technology sector within the material recycling of scrap rubber.

We have entered a rapidly expanding, future-oriented market with a team of specialists and strategic partners who are familiar with the specific market conditions due to their many years of experience in this sector. All of our employees therefore have to be able to carry out their duties and to focus their attention in a keenly entrepreneurial way.

Values and attributes of particular importance to Rubbertec are the pioneering of high-tech solutions to the highest levels of quality, achieving advances through using the latest technology and science, and facilitating the practical and straightforward use of the new material technologies.

With innovative products, attractive services and a dedicated, competent and reliable team of employees, over the coming years we intend to build up a firm capable of generating sustainable values for Rubbertec customers, partners and share holders, as well as making a considerable contribution to the environment.

Business objectives

The objective of this company is the development, production and marketing of new raw materials, other materials and
finished products, through the
material recycling of scrap rubber. Our innovative solutions focus on parts-substitution in existing products that are composed of differing parts. This shall result in significant advantages in terms of quality, as well as in terms of economy and ecological concerns.

Rubbertec is currently focusing on a few strategic fields within the car, construction, plastics and rubber recycling industries. Over the coming years, the innovative material technologies developed by us and our partners will become increasingly important.

Rubber-modified asphalt

The kind of rubber asphalt technology commonly referred to as the CTS procedure, (now tried, tested and very well known in Germany, Austria and Switzerland for many years), is now going to be available to markets across the whole of Europe under the trading name "TecRoad". This is due to a new, innovative manufacturing method which facilitates the addition of pre packaged, bag-packaged rubber asphalt granules on the asphalt mixing plant. Research and development, acquiring the accepted product certification in key markets, many years of practical experience, and the known and economically proven advantages of our products compared to polymer bitumen and other road surfacing materials: all of these factors form the basis for the rapid expansion of our business and the attainment of a leading position in the market.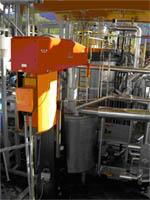 Mixer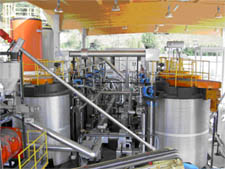 Storage Tank